DAVENPORT'S PROFILE
Davenport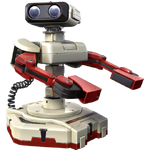 4810
I'm always inspired by videogames made ever since the Snes era.
Making cliche games is what I do best.

Search
Filter
This was a great Rpg overall featuring explorations of surreal caves,
tombs and pyramids including a sphinx dungeon. I played up to the
the final goddess deep inside the catacombs.

In Starfox Zero a minimum of 50 medals is required to unlock all the challange vehicles including the ATV. Thats good enough in terms of replay value.


"Do a barrel roll!"
"Falco can you translate?"
"Slippy, don't make me come over there!"
Top favorite levels so far based on music:
1. Ebon-flow Cave
2. The Lost City
3. City Blues
4. Forest Manor
5. Waterfall Heights
6. Reading Rainbow

Final scores:
Starfox Zero - 7.8/10
Twilight Princess HD - 8.6/10

Version 2 is now up. Thanks for the feedback :D
SMBX 2.0 Beta has alot of potential to be a better engine than it's predecessor
in terms of performance with fewer bugs and glitches.
The pyramid coming out of the sand along with the entrance
is a really nice concept for a desert level.
The choice of music "Visions" is also great.
Welldone!