DAVEYBRITERPG'S PROFILE
Search
Hello guys,
I go by the name of DaveyBriteRPG when it comes to my business,

I want to offer my services to you.

Firstly, I'd like to introduce my website www.daveybriterpg.com

Here you can listen, buy, or request your very own unique soundtrack.
Please take a look :)

Lastly, If you have any questions about pricing, wait times, or anything in general, please use the contact form on the website.

I hope this serves you well !!
Hello!
You may have already had these requests, but there's a couple of things i'm used to on other forums that I haven't fond here..

Now we all love attaching images to our forum posts via that little image button, and videos with the youtube button, But what about a soundcloud button?
Not sure if it's possible to add, but us musicians would like a link! :D

Secondly, it may seem quite stupid, but wouldn't it make more sense to have the "New Topic" and "New Poll" button above the topics?
I mean, maybe as well as, not instead, but scrolling down to post a topic can be a little irritating at times..

I hope you don't mind my feedback,

Dave.
Oh wow..
This is like a forum that most artists/musicians dream about!
Somewhere to show off? ohhhh Alright then ;)
So, mainly I compose music.
I absolutely LOVE RPG games such as Final Fantasy, WoW, that sort of thing and the music in them is beautiful.
This is mainly where my inspiration comes from.
One of my favourite classic RPG sounding tracks has to be this Dynamic piece that I made for a composer making a final fantasy style RPG, purely based on a battle scenario.
https://soundcloud.com/daveybriterpg/track-5-dynamic-typical-rpg
I once attempted to create a battle theme for something more futuristic (Imagine FF13 battle music on drugs)
This was the end result -
https://soundcloud.com/daveybriterpg/daveybriterpg-stay-close
And lastly, I have a slight passion for creating Credits (Beginning or End) for TV shows, Films and Games.
This is my most recent Orchestral Credits theme -
https://soundcloud.com/daveybriterpg/credit-roll
There is a hell of a lot more I would like to show off, but let's not seem obnoxious hey?
I hope you enjoy listening to them as much as I enjoyed making them.
Dave.
Hello you lovely people :)
My name is Dave, and I am a musician of around 15 years.
I have a beautiful little boy called Davey-Lee, and chihouha called Louie and a beautiful girlfriend that I dote over!
(Not sure if I spelt that chichi properly lol)

My biggest passion outside of my family has to be gaming and its beautiful music that many RPG games present to us.
Thus, my musical career taking a turn last year towards gaming.

I have worked for Devs in the past, (Single track work also) and my work is planted on soundcloud, but I wont post a link here as that seems pretty rude at an introduction!

Please feel free to contact me any time regarding anything at all, and I will try my hardest to help with anything you might need.

Best regards,
Dave.

Hello all, I hope you are well!
My name is Dave (DaveybriteRPG) and I am looking to see if anyone requires
a musician for their project!
I've spent a good 15 years of my life working on music for variant needs, and have a huge passion for gaming music.
You can view my last years work here:-
https://soundcloud.com/daveybriterpg
If you'd like me to be a part of your project, or you need that one sound that you just cannot find, please send me and e-mail @ daveybriterpg@outlook.com
I look forward to hearing from you :)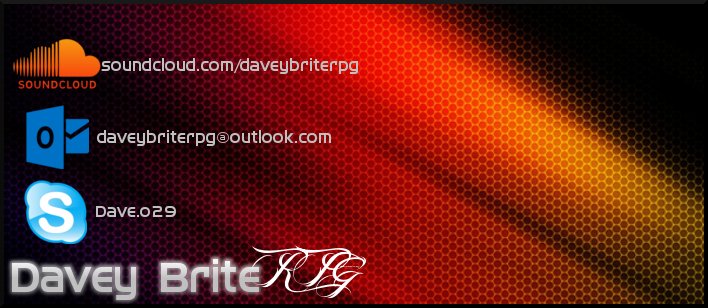 Welcome to DaveyBriteRPG's Music Request form!
I really feel that creating music for Commercial/Non-commercial games is my destiny. I've spent almost all my life playing with instruments and programs to try and better myself at music creation, to have eventually found myself doing what i enjoy the most. Playing computer games, and creating Soundtracks for those computer games! My life plan for the future (as well as the same old work sleep repeat) is to have a better studio, a better computer, and overall better technology and samples to record Soundtracks which sound truly authentic.
Using this topic, you can request your very own theme tune(s) for your personal RPG. Just follow the rules listed below and let's get under way!
Most of the music created here, is free work and may be used by any artist so feel free to download them,
Price List:-
♫---1 Track, exclusive to your game only, and hidden from the public, £8.49---♫
♫---1 Track, exclusive to you only, and hidden from the public, £8.49---♫
♫---Multiple tracks, exclusive to your game only, and hidden from the public, Negotiable---♫
♫---1 Track, exclusive to your game only, including vocals, and hidden from the public, £8.99---♫
-------------------------------------------------------------------
Please request your music using the request form here:
What genre of music do you want?
What type of soundtrack is it? (Battle, Town, Ambient etc)
How long does it need to be?
Do you have any videos you can link to use as a reference?
Please give me a short description of the scene/battle this music will be used in.
Is there any other sounds/personal touches you would like to add, to make it your own?
Once you've finished your request, please like my Facebook page! It's the least you can do!

Please subscribe to our new
Youtube
channel!
-----------------------------------------------------------------------
The music can be used by you for your games provided credit is given, and of course payment is recieved via Paypal. The tracks will be available to download from Microsoft's OneDrive upload service, where you will be given a private link.
Please allow up to 5 days (you will be notified if it will take longer) for your request to be complete. You can estimate how long you will be waiting by checking the waiting list, which consists of five slots.
Please respond to your completed work, whether it is compatible for your game or not. This will allow me to make the changes necessary.
Post your request here on this topic.
I would love to see a recorded scene where your request was played. (This isn't mandatory)
The WAV file will be uploaded to soundcloud (unless you're request is private) where you can listen before you request the OGG file.
You can request as many themes as you like in total, but please limit them to one at a time.
Please make all payments to my Paypal account using this link, and using the email addres:- daveybriterpg@outlook.com.
---------------------------------------
Finished Projects
(Free to Download)
Demised Danger
Demised Danger (Enhanced Ending)
Vast Opportunities
Us Against You
Psychopathogen
A Prelude of Determination
Leader of Wings
Enchanted Nature
Everswift
My Heart Divides
Serenade my Soul
Taming the Sword
Eternal Release
Eternal Vengeance
Onslaught Winds
What Awaits Us
Run For Your Life
Murder on the Move
Echoes of Perpetuity
A King's Descent
I Am The Prey
Hiding Behind My Wings
Still Unbeating
Oceanic Skirmish
The bigger they are...
...The harder they fall
Peace and Tranquility
Sun of a Bliss
Summer's Avenue
Battle of Hahn
Jade Mangrove - Ambience
Fighting Wild
Fighting Wild (Original Mix)
Ambient Rocks
Frantics in the Attic
The Snow Between My Fate
City Behind Walls
Ignorance is Bliss
At Arms!
Taken
Mournful Rest
Outskirts of the World - Remastered
http://i678.photobucket.com/albums/vv149/Ltid09/newad_zps7d67fd74.png
http://i57.tinypic.com/xcoi9x.jpg
Hello guys, My name is Dave and i run a Soundtrack Shop called DaveyBriteRpg.

So far the shop is only listed on one website similar to this one, and it has been a very successful one!

I would very much like to offer my services here in the Jobs Board!

I built my port folio by composing music requested by the forum members for free.
(There is over 50 tracks available for free download, which you can find once my topic has been submitted.)

Once I'd finished my collection, i decided to officialy turn DaveyBriteRpg into a small business, and people have stuck around and even paid for my services!

I really hope this is something you will consider to look at in the future

Look forward to serving your needs soon!