DYHALTO'S PROFILE
Dyhalto
6298
Though I may not look it, I'm really untelligent.
Search
Filter
That's just the Introversion acting up again. It'll cool down in a few.
For the record, I would also be okay with "Dy was here too" (⌐■_■)
To be honest, even just "DY" scrawled somewhere obscure would make me giddy :D
Crystal stealthily prepares to dive bomb the Swan.
Damn bird thinks it can just swim in her lake >:(
That's why I always say to change the name of Phantasia 6 to something like Miriam Phantasia. The sequel number is daunting to prospective players, who often want to start something from the very beginning.
Back in Production. Nice!
I see that you put an update in your game page's description, but I had to look for it. That's what Blogs are for.
Out with the (Old), and in with the (New)
I require more motivation. Why can't they invent Motivation Juice? Or some kind of needle-injected Motivate™?
I'm going to ask again :3
Are you able to draw unattractive characters? Like, characters with less than 9 Charisma scores? Or someone you'd see picking a fight with Kenshiro in Hokuto no Ken? Fat dudes? Hooked noses? Facially deforming scars? Those sorts of things?
Yeah, I was going to comment on the multiple enemy aesthetic too. Here's a sample.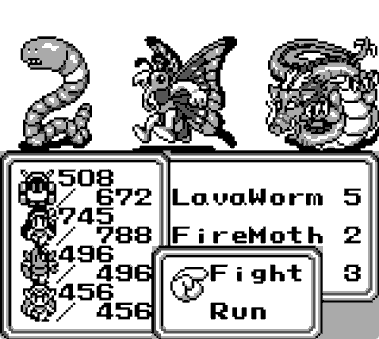 psy's SaGa 4 : Masters of the Demon World did the same thing, although his looked more organic since it wasn't confined to the restrictions of RPG Maker 2k.