FFLO'S PROFILE
Fflo
Be careful ! I'm French
2068
A French guy working with RPG Maker since a few years.

It took some time to improve but I currently have a decent level.
Parallax mapping, average script knowledge, experimenting, etc.

You can find me on YouTube as Ffloflouille.
Search
I'd like to try to code something in RGSS. I know the Ruby basics but this isn't enough to code something nifty for RPG Maker.
The RGSS documentation is too much technical to be effective for new learners like me.

Meanwhile, I've managed to tweak a few scripts, but all what I did was to modify variables. Is there any reliable documentation to make me progress ?
Hi,
I'm working on a little puzzle mini-game for Sorcelleria.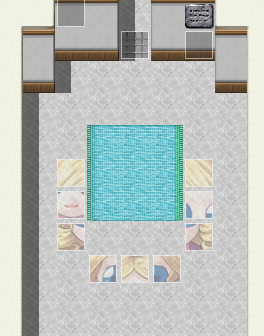 Move the 9 tiles correctly on the blue carpet so that the gate opens.
I want to check each tile's X&Y coordinates. But I don't want to use 2 variables for each tile (redundant).
I think there's some script code that can get an event's coordinates.
What is it ? Thanks.
Hi,

I was thinking about custom sideview battlers for Sorcelleria. However, I do not want to use those found in game rips. Are there any basics in battler drawing ?
The size would be roughly the same than 2k3 (80 pixels in average).
Hello,

I've posted last week a review for a SMBX game. Even by looking at the Tips on reviewing games (Game Design Highlights), the review got denied with a notice saying Please see our review standards.

2 days ago, I've edited the review accordingly to On reviewing and standards. I've submitted it again and it got denied for the same reason as above.

I'd like to know if there's a reviewing model or example I could apply to my review.
Or at least, can anyone from the Staff tell me what exactly didn't suit on my review ?
That question may seem a bit awkward, but how do I place correctly beds ?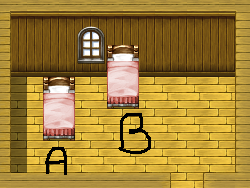 For you, does it look better in A or in B ?
In A, the top looks far away from the wall.
In B, it looks weird, the top is overlaping with the wall.
Thanks.
Hello,

I posted a new tutorial few days ago. However, it's still pending.
I'd like to know how much time (normally) it should take to validate the tutorial.
Be careful ! I'm French, so my English may not be perfect. I can speak English well but there may be mistakes.

Hello everybody, I am Fflo, 20 years old, and I am from France.
I registered in RMN in order to make myself known into the English Making community.
I would also like to say that I am owning a French forum for 3 years named RPG Maker Speciality (despite its English name, it is a French forum).

About myself, I have just finished my studies.

When I do Making, I am quite versatile even if I have weaknesses in mapping and scenario.

My main project is a kind of serie mixing Pokémon and the VX Ace RTP. It is called Pokémon Amitiés Sincères.
Can I introduce this game to the RMN community ? The topic would be in English, but the game will be in French.

However, I gave up so many games because of the scenario. It is a very embarrassing problem for me.

If you have any questions, you can ask them here.

I conclude by saying that RMN looks awesome for me. Keep up the good work !