GARI'S PROFILE
Search
Hi,
Some reports have been sent recently regarding the way Windows 10 handles video in Aedemphia. The game starts normally, the bug only occurs when playing the video. This normally works with MPEG2 codec. The game works fine on former OS, it's only with Windows 10.
The bug is graphical : when the video starts, the screen turns black but the sound works (meaning that the video is playing).
Details of what we found so far :
- the bug occurs either it's the ancient version of RM2003 (1.08) or the new one (1.12)
- the video is showing normally when transferred from PC to TV, with certain parameters : when above 1080p, Windows sends a YCbCr 420 signal instead of RGB. When it's the case, the video shows. The video are encoded in YCbCr 240.
- this bug doesn't occur on all windows. With the same options on RM and same codecs (we checked), it works for some but not other (it's working fine on my computer, which has mimnimal graphical settings, but not on his, which is all new)
- When FFDShow is installed, the video shows correctly first, but then when launched another time, the screen turns black.
- Without the codec, the video can't be read (logical).
Since then, the dev has installed different codecs, with no effect. He also tried to install DirectDraw older options with a Windows tool, but it didn't work.
So far, settings are :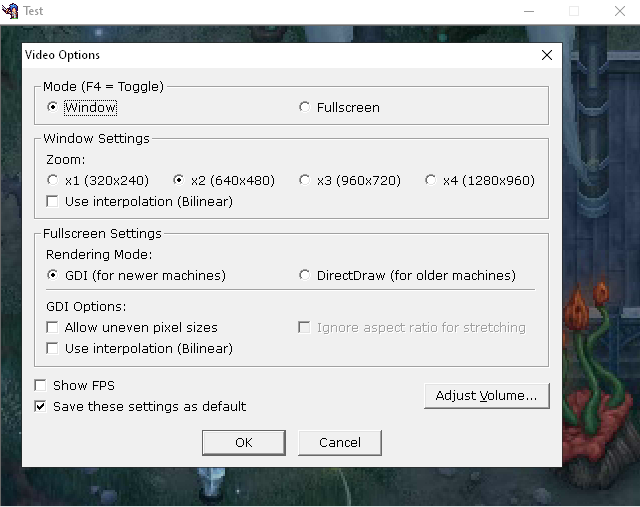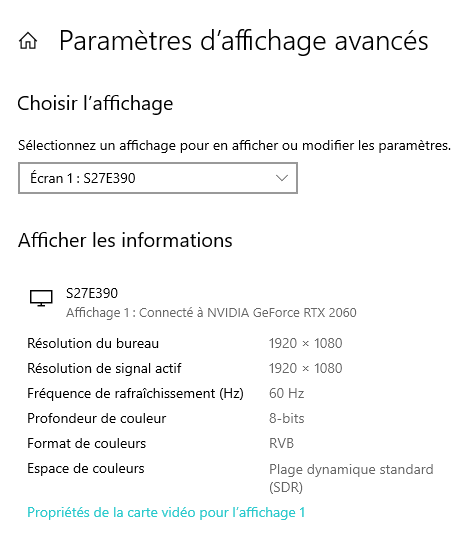 Video codecs installed (we have exactly the same, so I don't think it's that) :
ICM Codec Cinepak de Radius cvid iccvid.dll 1.10.0.12
ICM Codec Intel IYUV IYUV iyuv_32.dll 10.0.18362.1
ICM Microsoft RLE MRLE msrle32.dll 10.0.18362.1
ICM Microsoft Vidéo 1 MSVC msvidc32.dll 10.0.18362.1
ICM Microsoft YUV UYVY msyuv.dll 10.0.18362.1
ICM Toshiba YUV Codec Y411 tsbyuv.dll 10.0.18362.1
ICM Microsoft YUV UYVY msyuv.dll 10.0.18362.1
DMO Mpeg4s Decoder DMO mp4s, MP4S, m4s2, M4S2, MP4V, mp4v, XVID, xvid, DIVX, DX50 mp4sdecd.dll 10.0.18362.1
DMO WMV Screen decoder DMO MSS1, MSS2 wmvsdecd.dll 10.0.18362.1
DMO WMVideo Decoder DMO WMV1, WMV2, WMV3, WMVA, WVC1, WMVP, WVP2, VC1S wmvdecod.dll 10.0.18362.1
DMO Mpeg43 Decoder DMO mp43, MP43 mp43decd.dll 10.0.18362.1
DMO Mpeg4 Decoder DMO MPG4, mpg4, mp42, MP42 mpg4decd.dll 10.0.18362.1
If you are on Windows 10 and would like to help, here is a small game with a video included :
http://www.aedemphia-rpg.net/divers/Test.7z
And here is the codec :
http://www.aedemphia-rpg.net/download/mpeg-2_codec.zip
If you have any ideas of what it could be, it would greatly help figure out a solution for the project ! Thanks
Hi,
I've been a casual user of RMN some years ago and I never cared too much about games that didn't have a download : what I did look for was downloadable content. As such, I used your searching tool, which helped to take away unwanted features.
Today, I dedicate some of my free time to save some games on my hard drive, in a way that I can compare content with the
Lost Games topic
.
It happens that a small part of these games have a demo/download, but the developper never submitted it for the main download (or it got deleted, but it's a different case). It somewhat feels like those games were lost before even existing.
A clear example :
Ebon Scape
I don't really want to go back on the RM2000 Game's List (no Steam version) to list the one or two games without a download, but I can put up a small list of what I find for the next times, if someone is interested to edit games pages.
On a totally different matter, I'm wondering why so many game pages of the site are dead links ? (Too much content ? Not enough updates ?)