IROG'S PROFILE
Irog
3081
Hi all !
I like 16-bits RPGs (especially action RPGs) where you feel the quest behind the lines of code. I also like strategy, puzzle solving, immersive stories, tabletop RPG and LARP.
I'm a hobbyist C programmer who likes to work on custom game mechanics. My very first project was a very basic map generator for Genesia, aka Ultimate Domain
https://rpgmaker.net/users/Irog/locker/UltimateDomainWorld.zip
I also want to help developers polishing their projects with my player feedback. So I'll be happy to test your game !
See you around,
Irog
Search
Filter
Welcome Red.
If you like brain teasing games, I recommend you
Account Mu
.
On the horror side,
Dreaming Mary
is a must-play. You could also try
Red Balloon of Happiness
, a horror/mystery game I built together with 3 other RMN members for an Halloween event.
I think itch.io has a good implementation with its Platform list: Windows, Linux, MacOS ...

How this work on the developer's end?
When a developer submit a download, he/she selects one or several OS/Platform from a list. The list would work just like the genre tags we use for games and have the rule "You must select at least one genre tag". Like genre tags, OS/Platform tags would use a predefined list of OS/Platforms.

What OS would be associated to the games-list now?
Set all downloads OS to Windows and make a global announcement telling that developers can change or add OS tag(s) to their downloads.

I thought you were talking about how to identify a download for a particular OS in downloads tab of a gamepage, rather than the game-list.
On top of the easy OS search in the game-list, the OS tag(s) could be displayed as OS icons next to the download name in the gamepage download tab.
This is a proposal to improve download identification.

When a developer uploads a game download file, he/she would select one or several operating system check boxes (Windows, Linux, ...) to indicates which operating system(s) the download supports.

When a user search for games, the "Download available" box would be replaced by several boxes "Windows download available", "Linux download available", ...

This would make it easy for players to find downloads that runs on their operating system.
I like to make games that I can tweak, and freely fix annoying issues. And above all, I want games that runs on my favorite platform: Linux !
You've built a short but really good game. I can see you put a lot of efforts in your project.
Do you need a Linux tester ?

I'll be happy to test your Linux build !
Is this a reference to ...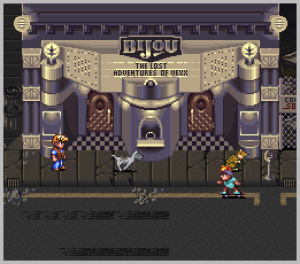 ... Secret of Evermore ?
Yes I'm compiling Linux binaries. If you have a Linux PC, please let me know how it runs.