DRENRIN2120'S PROFILE
drenrin2120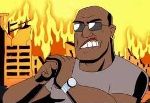 N
80
I like to mess around with pixels and pretend I'm really good at being creative. I also hike, travel, write songs, play music, make pizza, eat pizza, drink coffee, drink more coffee, and enjoy long walks on the beach.
Search
Filter
Ran into this problem right prior to a demo release. I'd always tested the game in testplay mode and wasn't even aware this was a problem. Your fix worked like a charm cherry, thanks!
Thanks a bunch! This is a good quick and dirty way to dive into Ruby.