DRENRIN2120'S PROFILE
drenrin2120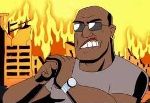 N
80
I like to mess around with pixels and pretend I'm really good at being creative. I also hike, travel, write songs, play music, make pizza, eat pizza, drink coffee, drink more coffee, and enjoy long walks on the beach.
Search
Filter
Did you make this? Because it's pretty awesome
That's good to hear. I know I already said it before, but I'm really excited about bitmap fonts.
Was the double space between words intentional?
I really like those trees, but the brown looks lost in all that purple.