OUTLANDER145'S PROFILE
outlander145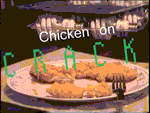 75
I'm basically into making movies, but as of lately... I've focused my attention to an RPG maker game I've been making. It's a remake of a Japanese NES horror game. No big deal you may say? Well, yeah, it isn't. But what about it? Well, unlike other people out there, I actually have the patience to rotoscope with real people. Be sure to check out my profile on YouTube, which is the same as my name on here, and I'll be sure to give swift response to whomever wishes to speak to me.

And a caterpillar system... Wonder where I'm going with this?? Yes, you guessed right. E-helper begging. Considering if you can help me with a dynamic caterpillar system, it would be greatly appreciated, and you'll have proper credit. It all boils down to credits. Everyone likes a mention every once in a while, right?
Search
Filter
comment=24632
KICKING GHOSTS UNTIL THEY"VE TURNED DUST! That's how it should be done. Anyways, I'm REALLY curious to know how did you capture and edit you and your friend's sprites. I mean, I've always wanted to do this! =D
To answer your question, Joseph, go to the video section of this gamepage, and you can at least see how they were captured on film... not too hard. But I can't let people in on the secret of the Photoshopping just yet... I still need that aura of mystery.
So you're willing to screw up those facesets on that other image, but not most importantly your BATTLECHARS?!
Though you haven't said whether you'll address the horribly gigantic and pixelized characters' size or not.


I'm calling shenanigans.
If this is a joke game, here's a tip: make the game a joke, by all means... but don't let the maps suffer because of it.
I'm going to say this as bluntly as possible, given that you probably won't bother taking this to heart: YOUR OVERSIZED PIXELIZED BATTLECHARS CLASH HORRIBLY WITH THE DEFAULT RM2K3 FIELD BACKGROUND!!!!!
I have to take a sh, but you don't see me complaining.
SQUAREZ!!! MAH PRETTY SQUAREZ!!!
Sure doesn't look like a pub.