OUTLANDER145'S PROFILE
outlander145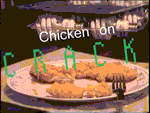 75
I'm basically into making movies, but as of lately... I've focused my attention to an RPG maker game I've been making. It's a remake of a Japanese NES horror game. No big deal you may say? Well, yeah, it isn't. But what about it? Well, unlike other people out there, I actually have the patience to rotoscope with real people. Be sure to check out my profile on YouTube, which is the same as my name on here, and I'll be sure to give swift response to whomever wishes to speak to me.

And a caterpillar system... Wonder where I'm going with this?? Yes, you guessed right. E-helper begging. Considering if you can help me with a dynamic caterpillar system, it would be greatly appreciated, and you'll have proper credit. It all boils down to credits. Everyone likes a mention every once in a while, right?
Search
Filter
Wow. Played through the whole thing. I even think I talked to absolutely everybody. I have absolutely no idea how I became a mohawk punk from my submitted charset, but whatever.

That was the most heartwarming ending I think I've ever seen in a 2D game. Thank you very much for this little gift to the community, YDS.
I'm like literally the only unlisted contributor. One spifftastic page btw.
Holy fucking hooray, man!! My first unsub! Hurry you other two loyal followers, follow pursuit and desub as well!!

Hmm... maybe this should go on hiatus as well as the other project. I can't seem to find the time these days to do anything else other than play crap like Mass Effect, so, meh.
The off-the-wall comedy is so sprinkled into every nook and cranny, and I didn't even read the description at first. I thought it was a joke game. Why are the "monsters" SIGNIFICANTLY larger than the heroes? I think it'd make more sense to actually map out battle backgrounds and screencap them if you're going for a tiny style. Anyhoo, I didn't know what to really expect from your screenshots. There are some bugs here and there that I won't go into, but other than that, I enjoyed it. "evil evil evil" was annoying as HELL, though. I majorly facepalmed. And the balancing of battles (freaking hard mode) I know it was hard mode. But the battles still could've used some tweaking. That's it from me, any more and I might as well review something.
Er, download in general, I mean. How wonderfully stupid of me.
If this is completed, why isn't there a demo? A DEMO, I SAY!
Hey, all. Now you have full complaining rights.
Ciel, you're never too old to troll on amateur game design. I'm sure you would've hopped right on the bandwagon, maybe even "reviewed" if I had a download available at this very moment.
Well, if anybody liked Final Fallacy at all, I hope this follows even remotely in the same vein.
Oh, and Corfaisus... for the record; you're thinking of Final Hearts. Of course, history has all but deleted that, so you don't really have much in the way of proof that it ever existed. It was all in your mind. Never mind that this got a misao... Final Hearts was a figment. You will forget I even posted this message, and kick yourself in the nuts two days from now. *snaps fingers*