LOOKING BACK: PHANTASIA SERIES
A look back at some classic Rpg Maker games.
Tau
04/26/2012 01:01 PM
What is Looking Back? A series of articles talking about those classic Rpg Maker games from the past.
Created by:
J-Man.
Made With:
Rpg Maker 2003
Gamepages:
Phantasia Remake
,
Phantasia 2 Redux
,
Phantasia 3
,
Phantasia 4
,
Phantasia 5
Interview with J-Man:

What is the Phantasia series to you?
The series to me is just following the tradition of JRPG that many people enjoy playing over the years, and I like trying to mix a bit of that charm into the games I make. TRY being the word, ha ha ha.
How did Phantasia come about?
Well, I was always a big fan of jRPG's and I figured when I made the series it'd
be a lot like the jRPG's I liked playing, like the old school Final Fantasy, Wild Arms, and Tales Series. They had that similar clicheness that got me easily hooked, I guess I'm a sucker for cliche stuff, ha ha ha.
When did you decide to turn it into a series?
Well, after seeing how quick I did P1, I figured I'd jump to the next game immeidately, unfortunately, I didn't have internet at the time so I didn't have anyone to proof read or test the game to its full extent, so I was a little ahead of myself when I decided to make sequel after sequel. After the drama at Gamingw, I wanted to slow down in the making of so many P Sequels, my original goal was to have like 10 Phantasia games, but with life taking a toll on my free time, I'm slowly having less time to be able to dedicate my time to making more.
How did each game come about?
Well, my first Phantasia was made on RPG Maker 2000, which if some haven't guessed it is a huge FF1 rip off, but at my more childish and unoriginal days of RPG Making, I wanted to use the same storyline except have the heroes have personalities. After a few years I begun getting into the spriting scene and figured I'd remake the first Phantasia, and to add to the tradition I'd use the same character sets just add a slightly different design.
BTW, some of the characters I have used in my games are based off of the RTP of RPG Maker 2000/2003, like Algad from Phantasia 5 is based off of the Monster RTP, and my Jaymonius Avatar is a little inspired from Zack/Brian from the RTP as well.
Well, as some haven't figured out, Phantasia 2 was also made during my less mature days, so it ripped off a lot of content from Wild Arms and other games, I feel so ashamed of these games. Really, I am. But after being given the internet I was able to look around for more resources and start making more details tilesets and have more battle animations, and if some ask, yes half the inspiration for P2 was also from Devil Hunter: Seeker of Power, in case anyone saw some similarities.
As for Phantasia 2 Redux, well, aside from the storyline which needed to be changed MAJORLY. The characters have been changed, a lot of the heroes and villains from the original return, but with different purposes, and a new fast paced battle system that is still being worked on here and there, lots of little bugs that need to be tempered.
It was around this time when I came to realize that my graphical sense was starting to lack, and became more aware of the community standards of what a RPG Maker game should be. So after playing the Legend of Philosopher's Stone, I was amazed on how well the creator made the maps, and I knew that if I wanted to continue the series I'd have to step up my game as well. But I was still in the age of having that childish mind of not having an original story to come up with, so I semi-ripped of Tales of Destiny, but at the same time tried to put more original aspects into the game, I do want to say that P3 was a great accomplishment for me, and probably one of my more favorite games, but looking back now, I'd say not as much now.
RIP OFF OF WILD ARMS 4, I get it, ha ha ha. XD Anyway, this was when I was getting a little more into the Tales series, so I started working with the battle animations on the Tales characters, and wanted to start coming up with new things to make rm2k3 more usable and fun, this game was more of a testing ground for me to input new crap into the series. Near the end of making this was when I was starting to get into spriting, so my attention span on this game dwindled. Needless to say, this was my least favorite RPG to make.
I had a discussion a while back with Skie Fortress and Trance2, when they were talking about P4, they told me "You better have more original stuff in P5, make your own stuff, no more rip offs man!" I was like "I so promise!! *insert a lot of emoticons here* So, after 2-3 years, and making Phantasia Remake during that process, I was getting a little more into the spriting scene, and figured, it's time to make a game with completely original sprites and stuff. Mind you the template is based off of the Tales series, even now my newest game(s) are based off of them. This game easily was my biggest, longest project yet, hell, I am still working on it here and there, and I know a lot of people have been patiently waiting for P5 to be released, but I want to fix EVERYTHING in this. Because I have been well known for producing games that are a tad buggy, I want to fix them, but I guess half of that comes with testing a lot too.
What's in store for the future of the Phantasia series?
WELL, I'm trying to move to bigger things, I'm currently taking a break from RPG Making at the moment, but right now I'm working on Phantasia 2 Redux, which I've been given some pretty good feedback on it so far. But, I want to end the series with P2R because I want to start on my older series that I have been neglecting for ages, P5's entire storyline was based off of my older series ending. I know I say I want to end the series at a certain number, my plan was for the series to end at Phantasia 5, but knowing ol' me, I might expand it further, so who knows what will happen.
You have any advice for your fellow game makers?
Don't hesitate in doing what you want to do in your game, if you're constantly thinking about what to put in, then you'll never finish, but rushing will make you frustrated later on, if you do get frustrated, put it down and play some Team Fortress 2. Mwahaha!
What's your favorite Rpg Maker Game(s)?
My favorite RPG Maker games, eh? Well, I haven't been keeping up with the RPG Maker games, but the ones I enjoyed a lot were Alter AILA/Genesis, Legion Saga, A Blurred Line, The Book of Three and Pirates. I want to play the newer games, but juggling between RPG Making, life, and a youtube account, there's a lot to do, ha ha ha.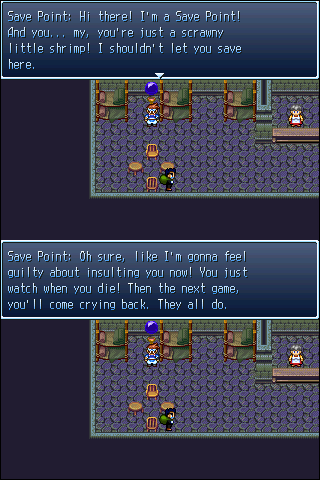 Poor Herbert...after being released from jail, he finds out that his house has been auctioned off to a priest named McGruder, who promptly (and decisively) kicks his ass. Lacking the abilities to fight the priest head-on, he has to go out into the world and recruit people to help him. Of course, Herb has to do his companions some favors before they help him out.
Download
Posts
UPRC
"To the lost."
3653
I don't know how many of these Looking Back articles you have planned, but they're awesome. It's a lot of fun to see these old games again and I hope you don't run out of material any time soon!
Tau
Looking Back
2864
With the amount of years I've been around these community's and games I've played. It wont be any time soon haha. Next weeks one is Legion Saga. I'll probably be sending you a pm soon for one of these articles ;)
Blindmind
373
J-Man's definitely one of the most prolific developers out there. We should all take some notes! Haha
benos
My mind is full of fuck.
503