Add Review
Subscribe
Nominate
Submit Media
RSS
STEIN.WORLD
Play for free: https://stein.world/
About:
Stein.world is a MMO Role-Playing Game you can play right in your browser. You can play as a lone wolf or in a group of friends to explore the fantasy world of Stein. Complete quests and fight against monsters to level up and compete in the rankings of our dungeons.

In the game you start as a character who wakes up after a night of heavy drinking, in which he has lost his family stein (beer mug). To get this precious item back you start to explore the world to find clues where your stein could be. In the progress you gear up, complete hundreds of quests and fight in dungeons like the Cygluln Chambers where waves of enemies await you.
How to Play:
Register on the page and start playing right away. Move your character around with typical "WASD" or Arrow Key movement. Interact with objects or NPCs by pressing "E". Change the orientation of your character and aim ranged attacks with your mouse. If you don't like any of the default configurations, just change them in the options window.

Features:
- Persistent fantasy world
- Current max Level: 20
- Hundreds of quests with many different objectives
- Hundreds of Items
- Millions of Equipment variations
- Group function
- Friendlist
- Dungeons
- Wave Dungeons
- Ranking System
- Bossfight system
- Professions system (gathering and crafting)
- Trading
Upcoming Features:
- Bank
- Guild system
- Mounts & Pets
- PvP system (battlegrounds and open world pvp)
- Housing with farming
- Raids
- Factions with reputation
- Planed max Level: 100+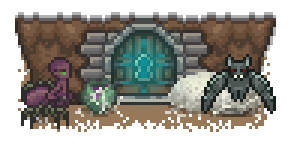 Latest Blog
No blog entries have been posted yet.
Completed

Commercial

Custom
10/13/2018 12:28 PM
10/25/2018 10:07 AM
11/01/2017
8963
9
0