Add Review
Subscribe
Nominate
Submit Media
RSS
Story (/!\ spoilers of the first part of the game):

Sophia, a sociable young woman, works as a housemaid for the Sinclair family, recently wealthy, with whom she gets along very well.


The Sinclairs are friends with another family, the Greylands, and invite them to dinner.


Sophia is tasked with organizing the invitation, which comes with a few complications; but the dinner is held successfully, despite some oddities.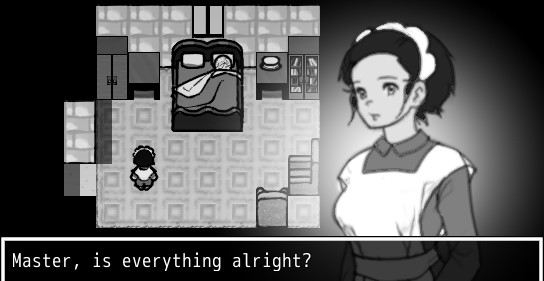 That is, until the morning of the following day, when Sophia finds Mr Sinclair dead in his bed.

To everyone, the death is considered natural, but Sophia can't shake off the feeling that something is amiss.


And the only person to listen to her input is Constable Shire, a police detective very clever, but so extremely bashful that he is incapable of making inquiries by himself.
From then, they investigate together, combining their abilities in order to get to the bottom of the case.

Gameplay:

Sophia&Shire is an investigation game, mostly made of dialogue.
You play as Sophia, the sociable housemaid, and make inquiries on behalf of Constable Shire, the clever but timid backbone of the investigation.
Mr Shire can connect the dots, but you must provide the dots for him.

Game mechanics are very simple, and all explained in game. They include:



1 - the unlocking and selection of your lines, which may or may not forward the story



2 - Mr Shire following you around, who can be consulted at anytime and remind you of the current lines of inquiry



3 - a car, for fast travel purposes



4 - an investigation board, that gets updated along with your progress



0 - thin slicing of the story in small chapters, just in case. But, please do start at the beginning.

Disclaimer:

This is a text-heavy game with a somewhat convoluted plot, and it might be boring to players who aren't used to old mystery novels or movies. There aren't a lot of different portraits, and no accent was put on puzzles, exploration or such dynamic gameplay.
Estimated play time: about 3 hours.

This being said, there is no blood, no profanity, nor any type of sensitive content. It's even quite light-hearted.

I think. I hope so.

Latest Blog
No blog entries have been posted yet.
Completed

RPG Maker VX Ace
03/03/2022 02:12 PM
11/22/2022 10:03 PM
03/16/2022
6023
6
77
Tags