Add Review
Subscribe
Nominate
Submit Media
RSS
Presents
"Hiya, guys! To reward you, loyal players of Inertia Chronicle, we have decided to make a special event!"
"This event will last... forever!"
One hundred thousand players of the virtual MMORPG Inertia Chronicles are trapped inside the game. It's your first time logging in to Inertia Chronicle, but you're unlucky enough to be considered as participants in the "special event".
Who's behind all of this? Can you survive the ordeals? Will you be able to log out from the game?
Reveal the mysteries alongside your seven lovely teammates, each with their own unique characteristics!
Pick your own girl and your own story!
???? ( Your own name)


Job: Knight

MC got forced by his friend, Fred, to play Inertia Chronicle, the recently popular virtual reality MMORPG. He's unlucky enough to get trapped inside the game during his first time playing, but is lucky enough to get paired in a team of pretty girls.
Everybody thinks that MC is quiet person but the fact is he's just too lazy to talk. He tends to comments about literally everything in his inner thought. He's the type who won't take initiative, but can be dependable when it comes to it.




Terra





Job : Cleric

Terra has the angelic look and has a fitting job, but she is really clumsy! She always thrives to tend to others' wounds, but always fails to do so. She's pretty depressed about that. Falling every several steps is her hobby.



Clanette





Job : Demolisher

She is a cheerful and outgoing cat-eared lady. Even though she appears to be free of all trouble, she keeps many secrets with her and won't share it to even her closest ones. Clanette is probably the most mysterious girl in the team!




Kumi





Job : Puppeteer

She's never spoken more than three words except when it's something really important. She has no expression on her face at all so she's often misunderstood by other. But, if you look closely… you'll find out that she expresses herself through her rabbit ear costume!




Hime





Job : Sniper

Hime likes to speak harsh and insulting words but she doesn't really mean it. She often regrets what she says to others, but is too prideful to take it back. Even though she may look hostile, she really cares for those she considers as friends.



Joan





Job : Warrior

Joan is really reliable and dependable, mostly due to her life in the real world. She is a serious person, but will suddenly turn to a fangirl when it comes to her favourite hero.



Sarah





Job: Mage

Sarah is an extremely shy girl. She always stutters when talking, so it's quite difficult to understand her. Based on Fred's information, she's actually a hidden beauty!



Fred





Job: Warrior

Main Characters' best friend, who is the exact opposite of him. Fred is a cheerful guy and talks A LOT. He's so close to MC that he could understand MC without him saying anything. He is a ladies lover but always has a bad luck with them.



Game Master





Game Master

Don't be fooled by its appearance! This cute elephant is the main villain in Inertia Chronicle. Self-acclaim itself as the Game Master.





DATING SIM
There are 7 girls you can choose to have romance with. Each girl has a unique personality and deep back story!

SIDE VIEW BATTLE
You can see how your character really fights. There are lots of unique animations for each skill!

BATTLE VOICES
Experience a more enjoyable battle with character voices!

ANIMATED PORTRAIT
Character portrait blinks and move their mouth everytime they talk.

VISIBLE ENEMIES
No more random encounter. What you see is what you fight!

CUSTOM MENU GRAPHICS
No boring standard windowskin. Every menu has beautiful custom graphics!

UNIQUE DUNGEONS
Each dungeon has a unique characteristic that makes it different with other dungeons!

TRADING SYSTEM
Trade items with your fellow players. if you're careful, you can find a bargain!

PLAYER'S SHOP
Shop items from your fellow players. each day, there are different sellers in the plaza. make sure to check it out often, as you might find rare items!

8 AVAILABLE PARTY MEMBERS
You can arrange and form your own party with 8 available party members to choose from!

MULTIPLE ENDING
Your action matters. How will you end this game?

CUSTOM VEHICLE
Buy vehicles to fasten your adventure!

FREE ROAMING CONCEPT
We won't tell you how to manage your day. Do what you want and plan how you want the game to end!

Check our other game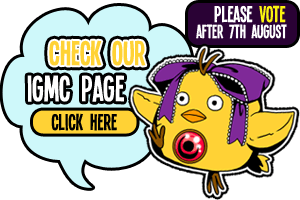 Artists:
Celianna
Pandamaru
Candacis
Lunarea
Whitepatissiere
Makapri
Vitamin Dog
Nodakoubou
Matseb2611
Hiddenone
cleardot.gif


Latest Blog
No blog entries have been posted yet.
Production

Commercial

RPG Maker VX Ace
06/01/2015 04:05 PM
07/31/2015 06:26 PM
08/31/2015
37359
41
0