Add Review
Subscribe
Nominate
Submit Media
RSS
Expanding the Framework and Overhauling Character Roles
Yikes, my blogging game has gotten pretty weak, hasn't it? Let's fix that.
Despite what the lack of tangible progress reports may indicate, work on PotF has been pretty consistent. It's just that the progress has almost all been in back door fields that don't make for interesting blog content (unless you think Word documents and database entries are interesting) and so I've been rather silent save for mini updates on Twitter.
However, it has been a month, and some sort of substantial update is overdue, so here I am.
90% of my work has been, as stated before, in back door fields. By far the most time and effort spent last month was laying out the story point-by-point. Sure, I knew what was going to happen and when before, but it wasn't until I started writing an actual synopsis (which, including just the absolute vital points to the story, just touched 11,000 words!) that I caught minor points and issues that needed addressing.
The biggest reason for laying the entire plot down to the specifics, though, is that just like Soul Sunder, PotF determines its ending based on the results of player actions instead of choices, so a lot of time needed to be spent making sure the criteria for each ending is a fair assessment of the way the player played as each character during their respective stories. This isn't something I can go back and change later for people who have files from future releases, so this needed to be right coming straight out of the gate. Just so there's no misunderstanding (and sorry if this breaks the immersion somewhat), your actions during the prologue were not judged in any way to determine the ending.
It's done, though, and now all that's left is to implement the listeners for these criteria before moving on to the dialogue proper. So yay!
*Side note: I would have been done quicker if I hadn't gotten carried away with writing optional skits. It'd be great to find a place to put them, but having the parties chat among themselves is so much fun!*
----------------------
There's been a fair amount done on the gameplay side, as well. Since the stat overhaul, a lot of previous strategies laid out for the characters became obsolete. Therefore, the rest of the cast needed to change accordingly. You may remember seeing a glimpse of Luke's abilities from a blog way back in December where he could demolish enemies due to his arsenal of magic attacks. Well, now his offensive capabilities have been pulled back a bit in favor of a wider variety of actions.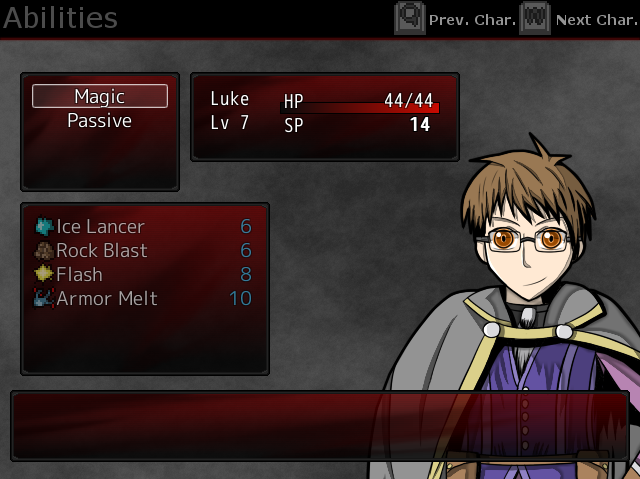 Frankly, I got bored to death of giving him every elemental spell, so this is his new loadout instead to encourage using other party members. He'll gain more abilities as he levels up, but his pool of spells should still have this kind of ratio.
Since Luke has no Drives anymore, his role as a nuke has been scaled back to only a few spells, and now includes more debuff and ailment-inflicting abilities. The lack of Drives meant his weapons also needed an overhaul, so changing his gear in battle focuses more on stats and resistances.
There's also been a tweak to the armor equip system, but I'm in more uncertain territory here. The idea behind the current system was giving the ability to have every character equip every piece of armor in order to allow you to create your own loadout. In practice, this became an absolute nightmare to test. Being a single individual with no ability to clone himself (yet), something had to be done, either by limiting the available armor or add in some restrictions if I ever wanted to make some semblance of progress within my lifetime. Currently, I'm playing around with a little bit of both.
Right now, I've changed the system so that
not everyone can equip medium and heavy armor
. Mia, for example can no longer equip heavy armor, so the Chain Mail you get in her prologue will have to be given to Amalie instead. The biggest issue holding me back from really delving deep into an equip overhaul was the fact that changing the system now will cause some issues with your save file if you've already played the current demo. For instance, there's already an issue with Mia and heavy armor if you (understandably) gave her Chain Mail during her prologue, but it's nothing game-breaking. Mia will still have the Chain Mail equipped, but will be unable to re-equip it if removed. However, I've been playing around with the idea of letting Relics be equipped in the same place as armor and removing the Relic slot entirely (sort of like Soul Sunder), but that has caused way more issues with a file if a character already has a Relic equipped.
Since I really don't want to force players to replay the demo over again for something so small, I think I'll leave it at the armor restrictions for now and just limit how much armor you can get. We'll see how this plays out during tests.
That's it for this blog! Sorry again for the lack of updates, but I hope this makes up for it. I'll talk a little more about the next party member in the next blog. For now, though, here's a little something that might pique your interest in her if you've played the demo: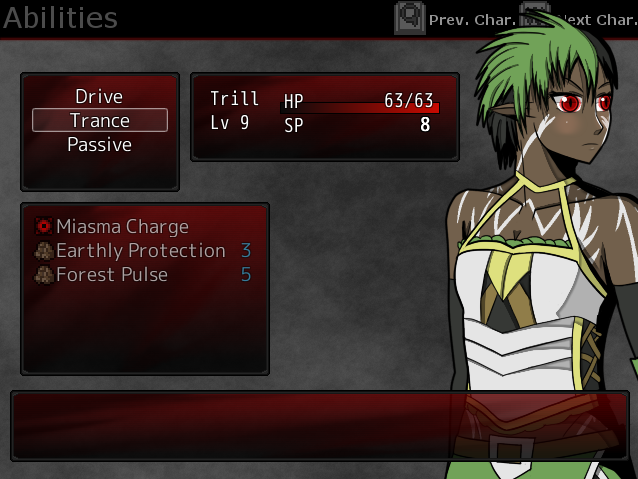 What?! M-Miasma Charge?!