Add Review
Subscribe
Nominate
Submit Media
RSS
Rise of Dragon Souls
Sinchross
is licensed under a License
Creative Commons Attribution-noncommercial-Sealed creating derivative works 3.0 Brazil
, the use of any materials created for this game is forbidden.
The winner of the monthly best project contest in the Mundo Rpgmaker and Centro Rpgmaker.
*I'm needing someone to help me to correct my grammar on some english texts that I want to post here telling about the game history and some texts in the game trailer that I need to correct. I'm sorry about my bad english...But I'm trying to do my best for that you can understand me and the game history.
*The topic is being updated.
Videos:
All Videos Here:
http://www.youtube.com/playlist?list=PLF28142ECA20D0948
15 - 07 - 2013
25 - 06 - 2013
08 - 14 - 2012
07 - 20 - 2012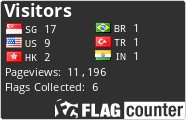 Latest Blog
Production

RPG Maker VX Ace
05/09/2011 08:12 AM
03/26/2019 10:32 PM
N/A
325797
158
0