ASHRAMARU'S PROFILE
Ashramaru
39
I'm a small time Indie Game Designer. I like to create Concepts and Ideas for game and bring them to life through the creation of a team of dedicated individuals. For the most part I am a very charismatic individual, I love having discussions about nearly anything and even more so about game development. If you ever have time PM me or MSG me on MSN: gamejockey419@msn.com
Search
I believe this is an important part of customization using the basic RM Systems. Anyways this template is to help you do this.
Name your top 10 Songs for this summer that you have been listening to as well as recommend 5 for other members.
My Top 10 in no particular order
Hands Down: Dashboard Confessional
When I Rains: Eli Young Band
Mr. Jones: Counting Crows
Free Falling: John Mayer(Cover)
Electric Feel: MGMT
Leave Out All The Rest: Linkin Park
Viva La White Girl: Gym Class Heroes
Crack A Bottle: Eminem
Neon: John Mayer
Blame It: Jamie Fox (T-Pain)
Recommendations
Hands Down: Dashboard Confessional
Mr. Jones: Counting Crows
Electric Feel: MGMT
Neon: John Mayer
Blame It: Jamie Fox (T-Pain)
Yea I've been pretty busy with school and work, but I have some free time and I promise to get active again. For the past 3 Months I have been coding and engine for a friends ORPG so I really havent been into RPGmaker in a while, however I find it relaxing to know I still have all my old RM Docs and The Last Bible ideas so its time to get back to work.
Its been a while since I have created my own topic. Anyways I would like to know some of the most anticipated games you have been watching for this year.

- Ascendence: Rei
- Phantom Legacy: NightBlade
- Marvel Brothel: Calunio
The Giant Orb of Brainstorming

Introduction
Hey everyone, basically this topic is here for three reasons: Brainstorming, Critiquing, and Guidance. In my recent experiences while working on The Last Bible, I feel as if some elements of the games Plot may be wack, and 100% off the track. Basically with this topic we will share Plot Ideas and help one another develop our games and perfect ideas in terms of Character, Plot, and Game Development as a whole. In order for this to work however courtesy and basic respect is needed. If you have a game Idea you need help developing or need help finding where to go next please create a post in this topic. One thing I would love would be if everyone could both share ideas as well as critique and help other's ideas. In terms of respect this mean, giving thoughtful feedback, and not flat out, "This idea sucks ass", and in terms of courtesy this means critiquing and giving feedback to the person who has posted above you rather than spamming the thread with your own ideas. Common rule of thumb is just abide by the forum rules, along with these rules are some Guidelines I have created that will help this discussion and allow Game Developers to utilize this topic to the fullest.
Guidelines
Name:
The name of your game.
Progress:
Your games current progress.
Background:
Some basic background of your game, please do not add spoilers, this is basically to help everyone know what the hell your game is
about.
Idea Type:
The Type of Idea or Progressing: Script, System, Character Dev. etc, etc.
Idea:
Utilize the

tag to hide all Ideas that are being shared. This is used mainly to prevent spoilers and such. Basically within this Tag you will post you idea. This idea can be anywhere from story development to area design. You may post screens and such to help get your point across, and if any additional background is needed to help set the mood of the game, In terms of scripting and such please add these inside the tag.
Feedback:
This is not need for one whom is posting an idea for their own game, but is needed when giving feedback to a game. Please utilize the

tag as well in terms of feedback. However please note that there is actual feedback inside the below tag. When giving Feedback please us the @The User Name format of response.
In Conclusion

I hope this topic really gets people together, all in all I am not an IRC kid, but if needed we could get a channel of this. I hope many of you will work together in terms of Feedback and Ideas, and if this is the case please use AIM, MSN, and any messenger form to continue to help one another if not on the forum.


Hey there, I have come to the point of game development in which I really need to pretty up one or two things. Of these things are The Last Bible's Title Screen. Basically this is a request to create a Title Screen for my game The Last Bible. Below are the items I wish for the Title Screen to possess, ultimately I will create an Animated Title Screen utilizing one of Cherry's Patches, but for now one of these will suffice.
Needed Items
The Last Bible: The Title of the game, perhaps in a Gothic Font.
A Cross or a Bible image in the background.
In terms of mood, definitely want a darker tone and mood.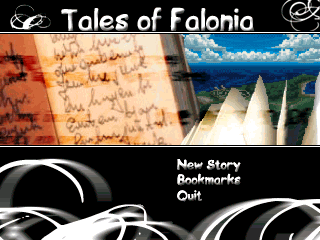 Also I would like whom ever is working on it to use my Tales of Falonia Title Screen as a Template. Basically I would like The Last Bible to be at the top center of the screen however lowered a little bit. As well as the same arrangement of the New Story, Bookmark, and Quit Options. However instead of New Story and such I would like Commence, Memory, and Quit.
Thank you for your help, I really need it.
The Sword or the Pen: Your Character's Weapon Preference in RPGs
Times have changes, ideas have sparked, new worlds unfold to us from the minds of various creators. As we develop and creator our own unique worlds, we craft our own forms of technology, and even really on history to provide us with past and present forms of technology. Despite how long time goes on, and despite the innovation of our current time period, one tool still remains etched and engraved into the minds of many RPG Player. This tool is "The Sword". Forged of iron, sharp to the point, this cutting tool is what can be labeled as "obsolete" if we look at all the modern technology which our world possesses. Of course the use of a sword in RPG's is dictated by the World and Time period, (Swords have evolved from simply metal, now we have seen Gunblades, Lightsabers, and such) however why is it that even in imaginary worlds, that the sword still remains at the top of the Weapons food chain. I mean honestly its nothing but a heavy piece of forged iron.
My main questions are:
1. What weapon selections are available in your RPG's ?2. Do you plan to break away from the stereotypical "boy with a sword" in your RPG, if so then why. If not why do you believe that a sword is a useful choice of weaponry even in an environment ruled by futuristic technology?3. Why do you believe swords constantly appear with RPG's despite the innovation seen in our modern day?

Lastly discuss anything in relation to the topic, enjoy :-*
Featured Software
I wanted to start working on my art again, so I decided to share some software that has helped my in the past in my fields of art.
Image Generation and Manipulation
GIMP
GIMP is a feature-rich image manipulation software; the poor-man's alternative to Photoshop. Use GIMP for layers, masking, photo manipulation, image generation, and more! Open source code makes this program entirely free to use. Visit the forums and view the tutorials to maximize GIMP's capabilities.
SAI
SAI is a Japanese graphics editor developed by Systemax. Check here for a
youtube
vid using this software and
here
for the Japanese site.
FreeSerifSoftware
FreeSerifSoftware includes a variety of programs for image generation and manipulation, all free. PhotoPlus, DrawPlus, and 3DPlus are all found at this link for your digital artistry.
Pixia
Originally a Japanese program, Pixia has gained an intense following and is now available in ten languages. Paint, create, and manipulate. Create your beautiful digital art with this unique tool.
Rendera
A powerful painting program offering a variety of tools for the digital painter.
FaceOnBody
FaceOnBody is a program designed for mixing and matching faces and bodies.
Dogwaffle
Dogwaffle is a free painting and animation program for people who love to draw, sketch, animate and paint.
3D Graphics
Autodesk Maya
Maya is the powerful 3D digital arts studio used by the pros. You can have this incredible and super expensive 3D image and animation studio in your hands at no cost to you! Maya Personal Learning Edition (PLE) is a special version of Autodesk Maya software, which provides free access to Maya for non-commercial use. This is no dinky trial. Nearly all of the superb features of the commercial version are included. The learning curve is high, but the results are well worth the effort.
Blender 3D
Blender 3D is an incredible free tool for creating three dimensional models, images, and animations.
Wings 3D
Wings 3D is a powerful subdivision modeler for building static three dimensional images.
Sketch Up
Want some sketchup on that digital burger? Your conceptual designs pop in full 3D with this simple tool from Google.
POV-Ray
POV-Ray is a powerful three dimensional graphics tool free for your digital easel. You can also make use of Arbaro, the tree generator for POV-ray.
Animation
Blender 3D
Blender 3D is an incredible free tool for creating three dimensional models, images, and animations.
Dogwaffle
Dogwaffle is a free painting and animation program for people who love to draw, sketch, animate and paint.
3D Canvas
3D Canvas is a real-time 3D modeling and animation tool that incorporates an intuitive drag-and-drop approach to 3D modeling.
Anim8or
Anim8or is a 3D modeling and character animation program that includes the bare essentials for creating 3D animations simply.
MonkeyJam
A freeware digital pencil test animation program for Windows. It also has additional features that can be used for stop motion animation, clay animation, and more.
Vector Drawing
Inkscape
Inkscape is an Open Source vector graphics editor, with capabilities similar to Illustrator, CorelDraw, or Xara X, using the W3C standard Scalable Vector Graphics (SVG) file format.
Texture Graphics
Texture Processor
Texture Processor is the unique program for creating various textures.
Fractals
Apophysis
Apophysis is a freeware fractal flame editor for Windows.
Double Fractal
Double Fractal is a program that creates fast and easily high complex images. No specific knowledge is needed to use this program, it is a program that can be run just for fun!
Other
Simply a compile of other free materials. More to come.
Anitvirus
I used Norton for many years and it was the best thing available until it got too big for its britches. Now it's a hulking resource hog that fails to get the job done.
That's ok, though, because the better alternative is free, unlike Norton with those obnoxious subscription fees. Keep your computer well protected and virus definitions up to date with these two better-than-Norton titles!
Avast! 4Home Antivirus
It is the opinion of the makers of avast! that the best way to protect their big paying customers is to prevent viruses from spreading at the individual level. There is no better way to accomplish that than to offer your product free to the little guy while charging corporations and organizations the big bucks. This is no piddly open-source hackjob; avast! is the real deal and the best thing going to keep your computer virus free!
AVG Free
Working under a similar philosophy as the avast! people, AVG is a fully loaded anti-virus title free to the little guy. You can get a few more bells and whistles with the paid version, but the free version essentially does the same job as far as anti-virus protection goes. While you're there, pick up their free anti-spyware program and their free anti-rootkit program to maximize the health of your computer.
PDF converter
The best way to share documents and similar files that may change appearance in different programs or even different versions of the same program is to share them as pdf files. PDF files are WYSIWYG (what you see is what you get) and you'll never lose information or have your friends see trash where you made treasure when you share your precious documents in pdf format. Write pristine tutorials with all of your illustrations intact no matter who opens it!
PDF995
Don't bother paying hundreds of dollars for Adobe's converting software, you can get it all that functionality free. It installs as a printer driver, so anytime you want to save an item as a pdf file, it's as simple as clicking your print button, which will bring up a save box so you can title your new file. For the free version, an ad will pop up, but if you want to skip the ad, the ad-free version is $9.95 ($19.95 for the entire suite of pdf software including security and pdf editing features). That beats the hundreds of dollars you'd have to pay for Adobe's software.
I have some more links, however I have to work on something real quick.
I know there is the Artistic Forum, but I don't really find this as Literature yet. Basically I have been working on a Script to end the Third Chapter of my game. I was going for the "big" clincher, and I need an honest opinion. In terms of coding it, don't worry I don't have a problem with that at all, simply because the majority of it will be a mix of "anime" and coding. Simply post here to ask for the Script. I don't want to spoil anything, but I really need help, and your response would really help with this games completion.

(Also if you can find Crammer and Spelling Errors that is very much appreciated.)
Probably the first and the last. Post ridiculous, odd, and funny images in this thread. However please mind the Age Group around here as well as morality. (I think a lot of things are funny, but some things aren't to be made fun of.)
Compliments of YDS