ZEEBREE'S PROFILE
Zeebree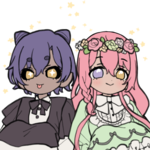 196
Trying to create games to outlet my creativity and ideas.





Zee.
Search
Filter
author=OzzyTheOne
I'm glad to hear you're still working on this game! Life tends to get in the way of things more often that someone might want, but as long as you perservere and keep going forward you'll reach your goal, I know it!

If ya need any help with anything, don't hesitate to ask for help, you got a whole community at your disposal after all!

(Also, you wrote release a demon instead of release a demo)
Thank you thank you! I really do appreciate you :D
(Let's just pretend it was intentional lol!)
author=caged_bird98

⋆ Good luck on the game! ⋆

⊱ Just wanted to let you know I'm still patiently watching for updates :p ⊰

~Kat ❣

Thank you <3 I'm giving it another go, I was very unmotivated and plus some issues were played while making it, so i'm going to remake it all again, but this time I'm making sure this really happens!
author=OzzyTheOne
I'm glad to hear you're still working on "Our Dear Family"! Also, best of turning this game into a Visual Novel, I believe you have the potential to make something very interesting. Just keep working on it, even if there are parts you don't like about your game. Once your game is done you can then fix those parts up.

Anyhow, good luck with the further development of this game, I hope you can achieve what you want with this game :D
Thank you so much!!
You really are a great supporter, things may get tough but people like you make it worth it!
:) Thank you
author=Muffle
Ehhhh, yeah I'll help. I'd be best in story progression and helping with character designs unless you're looking for an artist I took it as giving ideas. I can also basic tile edit, basic.
Sounds good!! I definitely will love that help, I did want ideas for certain character ideas rather than a drawing of it, though a drawing will be like a bonus type deal.
PM me please
author=Red_Nova

author=bicfarmer

Updated
~Warning there will be spoilers~
Hi there! It's Zeebree, and I have come to the realization that I can't make this game of mine on my own, so i'm looking for people to recruit and venture on to help me make this game!
Our Dear Family
is the game, I have provided multiple screen shots of what the beginning of the game holds since I haven't been able to make sprites and other artwork as I wanted it to look for the game...
I do provide story plot, map plans, character details, and cg.
I am having trouble with:
Spriting and pixel art(advanced): I mostly need help with the character sheets and furniture/room rtp
Story Progression: I have basic story plotlines for the game, but I need help with the flow and certain events.
Character Designs: With multiple characters in the game to interact with and battle, its quite a challenge to come up with creative and unique designs for each person, I have some designs for some, but input and other ideas are always open as well
Scripting(advanced): this is for misc. stuff to make it look neat and original as possible
My price range depends, but please be reasonable.
I will give credit for any help you give me, I will give a thank you note, as well as a free illustration of your favorite character of the game exclusively for you ;) (note: if you do post the picture to the public please give me recognition)
The game's genre is horror/mystery
It will have a battle system for there will be multiple bosses.
Might have a chase scene or two, not entirely sure though
Will also include a slight visual novel feel to it with certain scenes.
The story bases around a girl named Kaz who's 15 turning 16. She has a genetic disorder called "Alexandria's Genesis" which causes her skin to appear more pale and her eyes to have a purple tint to it. She always has a reoccurring nightmare where this dark women with a bloody smile takes her away in this gooey purple hole, the night of her birthday is where everything changes where she wakes up and seems to not find her mother only to face her fears and go into the surreal world of horror and sin known as Phantasma. Everything is not what it seems for the life of Kaz, with your choices and actions, only you can decide whether or not you can figure out the full truth behind where Kaz's mother is and her family's past.
7 of the 8 bosses are based off the Seven Deadly Sins, and you will have a choice whether to kill them off or sacrifice their sin to turn them into a virtue.
The world of Phantasma has different cities (levels) to go through, along with hidden places to explore and more!
Curses, Despair, Sins, and Family Tragedies.
Demo Screenshots:
Those poor kids lol
Looks interesting though!
author=Dragnfly
Hiatus? I take it stuff didn't go as planned?
I figured to put it on hiatus till I have everything ready for the game...
I am still working on it, it's just going to take longer than I expect for this demo release
author=WonderlyneWorld
A game inspired by Mad Father, Corpse Party, Wadanohara and more? My kind of game!
It's a shame the problems you have had to continue your game, but I'm glad you still want to continue it. The game looks very interesting. I want to know more about it.
I wish you luck. I hope you can finish it without problems.

Thank you so much!! I'm hoping to have everything ready for demo by the end of this year...maybe even sooner if everything goes as planned.
author=OzzyTheOne
Oh bummer, that sucks! Hope you can get back on your feet soon!
Thank you!! I'm trying to be as optimistic as I can about this lol..