DRENRIN2120'S PROFILE
drenrin2120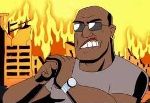 N
80
I like to mess around with pixels and pretend I'm really good at being creative. I also hike, travel, write songs, play music, make pizza, eat pizza, drink coffee, drink more coffee, and enjoy long walks on the beach.
Search
Filter
It definitely works, I especially like the string breaks in Motion Sickness. That might be my favorite track actually.
These are great! Definitely getting an Earthbound vibe from them and I love it.