DRENRIN2120'S PROFILE
drenrin2120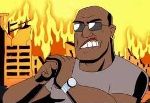 N
80
I like to mess around with pixels and pretend I'm really good at being creative. I also hike, travel, write songs, play music, make pizza, eat pizza, drink coffee, drink more coffee, and enjoy long walks on the beach.
Search
Filter
author=JosephSeraph


author=drenrin2120
The other 60% is too busy smoking weed and having gay sex because that's way more productive.

well arguably it is
I could believe that.
author=pianotm
@Sated The bad news is that more than 50 percent of Americans vote Republican.
Actually, only about 15-20% of the population votes Republican, because only roughly 35-40% of the population votes in any given election for any given candidate. The same can be said for the Democrats. Both parties roughly have 15% of the voting population registered as or considering themselves aligned as a Dem/Rep and the rest of the voting block considers themselves Independent, Libertarian, Green, etc, etc. Also, voter turnout is a lot higher during Presidential elections or when so-called key seats for either party are under threat of being taken by the opposing party, so there are exceptions to the rule.
The other 60% is too busy smoking weed and having gay sex because that's way more productive.
Composites are great for filling maps with NPCs, but to be able to make my own custom full sprites for important characters is great for me.
author=WolfCoder
Did you create a entry for it under "composite" first and make it a full sprite? You have to, first. It's annoying for me too right now, RPG20XX will be able to detect this in the future and make one for you.
Ah, I did not do that. I'm having no issues now.
author=WolfCoder
When it's this, its ASCII. There's a lot of blank spaces where you can put more funny symbols in.
Oooo, I'll have to look that up. It may be a bit redundant with an icon option, but the ability to add extra symbols into the bitmap font is super intriguing.
EDIT: I ran the nano bitmap font you provided and loved it. Until I tried to see what it looked like in text boxes.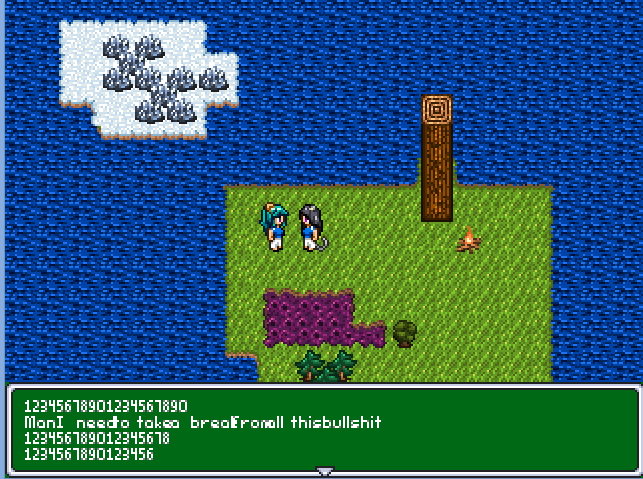 I don't think it's recognizing spaces? Flat strings of random characters work just fine, but whenever there's a space bar present, nothing makes sense. That first line of text, each word was separated by four space bar hits, and yet it gives that erratic pattern. Using one space between words just returns a mess of smooshed characters.
Under project settings, the text size is set to 8 pixels.
EDIT: Switching back to the standard font I had the same issue.
This is great. I would have never figured out that format. Ill be experimenting with bitmap fonts. Ill let you know if I find any bugs
Do you think you could reupload the sample picture?
Sorry for multiple posts.

For some reason when I go to select a full sprite for a player, no options to select an imported full sprite appear. When I click okay, the program crashes. I don't have this problem with imported face sets. This same errors occurs when setting full sprites for events, it crashes.
author=WolfCoder
Right now its either using the alpha channel (and saving as 32-bit .BMP or .TGA) or using the color (R=255,G=0,B=255). For some reason, FreeImage doesn't load the alpha channel in .PNG files.
Fine by me, #FF00FF is a damn ugly color anyway.
I can't seem to figure out how to give images transparent backgrounds? Such as a string of words used for a title. I'm reading the documentation and examining the sample files but I'm not sure what I'm doing wrong. Any one want to give me a clue?