DRENRIN2120'S PROFILE
drenrin2120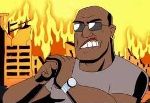 N
80
I like to mess around with pixels and pretend I'm really good at being creative. I also hike, travel, write songs, play music, make pizza, eat pizza, drink coffee, drink more coffee, and enjoy long walks on the beach.
Search
Filter
It definitely works, I especially like the string breaks in Motion Sickness. That might be my favorite track actually.
These are great! Definitely getting an Earthbound vibe from them and I love it.
Ahh, that makes sense. I kind of thought that they might be doing something like that since everything else seemed to function as intended. I understand things not being complete due to time constraints. To be honest, I was glad it jumped right into the TBS because that's really what I wanted to try out.
Talk about an anti-climactic ending. xD This was really great. I enjoyed the simplicity of it and I found the battles were very engaging.

Maybe it's just me being terrible at playing TBS's, but I found the second battle very difficult, much more difficult than the last. I was swarmed by golems several times before I finally came up with a winning strategy.

As for bugs, the only thing I noticed was the elf healers didn't actually heal any of their allies.
Great! I hope you enjoy it! :D
Oh man, why is this so nerveracking?!
Ran into this problem right prior to a demo release. I'd always tested the game in testplay mode and wasn't even aware this was a problem. Your fix worked like a charm cherry, thanks!
It's the system I'm using. Weapons, Shields, and some accessories provide heroes with different skillsets, making all of them useful through out the game, for the most part.
Me again with all the requests! :x

...Sorry about that.

But I was wondering if anyone could whip up a quickpatch that would allow me to set weapons to increase or decrease stats based on a percentage amount instead of a static number.

I can pretty much already do this, but the correct stats don't display in the default menu, which is the real problem. Thanks in advance for any replies or tips on how to accomplish this.